UPDATE: March 2022
New UI
At EyeQuant we care passionately about our customers and their user experience. So, over the past year we have been working hard to build a new user interface for our platform and are very excited to announce its rollout.
As well as a new look and feel, the new design enables improved ways of accessing features and navigating through the platform as well as collaboration with team members – ensuring the best possible experience when using our platform. 
Why have we made these changes?
We took on feedback from our customers and partners and analysed how users currently use the existing functionality to help shape the design, with the primary aim of ensuring their work could run as smoothly as possible. There were also enhancements we wanted to make that we couldn't implement without changes to our UI. This will enable us to make future improvements and updates much faster. 
What are the main benefits?
While the core functionality of EyeQuant has not changed – it is still based on our powerful combination of AI and neuroscience – we have tweaked and updated how it is presented and added in some more handy features too. The main changes are: 
A cleaner, simpler and more intuitive design

Improved navigation to help users move between features seamlessly and work more efficiently 

Ability to set regions of interest first and keep track of these as you move through the tool to improve insights

Ability to collaborate with team members with the addition of a comments section for each analysis to streamline the decision-making process 

A separate A/B Test function to make comparing versions easier and the introduction of a Live Results table to easily see which design to take forward 

Ability to rename analyses to help organise files and share more easily with team members

Improved help functionality for troubleshooting and understanding how features work. 
Are there any features deprecated in this version of the UI? 
No, with this release you have access to all of the features you are familiar working with in EyeQuant. 
When will it be released and what are the timelines? 
The global site-wide release of the new UI will replace the original UI in the coming months. 
During the next few weeks, we encourage you to give us your feedback and suggestions on the new UI. It is also possible that the new UI will contain undetected bugs, and in the case you find any, please inform us. EyeQuant strives to create the best platform and experience for all users. 
How do I access the new UI?
When you log into the EyeQuant platform, you will see a yellow button that says "Switch to the new version", simply click it and you're in. 
Can I switch back to the old UI? 
At the moment, you can easily switch back to the old UI with the click of a button. 
---
UPDATE: May 2021
Spring is here! And it's a great time to explore new design trends and find fresh inspiration. Here's a round-up of what's new this month:
1. Design psychology: How to combine neuroscience and design to engage your audience
In this article, the pros at Canva reveal 5 ways the newest findings in neuroscience can help you design a site that will appeal directly to the brains of your audience.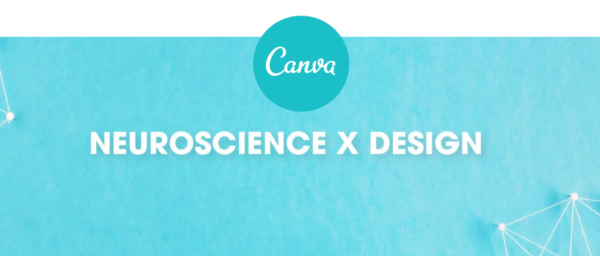 2. What is predictive eye-tracking?
This week, our very own Jon Sketchley, shares some product expertise on what predictive eye-tracking is and which companies are nailing data-driven design.

3. We're looking for data, could you help? 📈
Our product team is embarking on an exciting project, they're looking to partner with more customers to validate correlations between EyeQuant design metrics and website performance data from Google Analytics.
4. EyeQuant Masterclass – How to maximize the value of EyeQuant 👩‍🏫
Join us as we reveal new use cases for embedding visual attention data into our workflows. From improving app development, email optimisation, split-testing landing pages, POS merchandising and much more.
Time:  May 13, 2021 01:00 GMT -> Save your seat
Can't make it? Register for the webinar and we'll send you the recording anyway 🙂
5. Customer Support🏅
Check out our growing Help Section, it covers really useful content, such as:
✅ Introductory tutorial videos
✅ How to interpret the results
✅ Useful features
✅ FAQ's
---
UPDATE: May 2020
EyeQuant now instantly maps out the emotional impact of your designs. 
Why is this important? Well, first impressions count. Visceral emotional design has the power to transform functional products into unforgettable digital experiences.
Here's a short clip of the new Excitingness Map. The areas of the design highlighted in green below, are more likely to trigger a visceral reaction and are therefore very stimulating. Whereas, the areas that are highlighted red by the Excitingness Map are less likely to elicit a visceral response and therefore contribute to a much calmer design.  You can use this data to strengthen the emotional impact of your product experiences ensuring the key pieces of information evoke the right level of emotion.
The Excitingness Map is available to all EyeQuant customers for all future analyses, so log into the platform today to see how your latest designs will capture emotion.
—–
UPDATE: October 2019
You can now share the success of your design comparisons even faster than before.
Want to see the precise impact certain design changes have on the visibility of specific elements? Want to see how your design compares to multiple competitors'? You can now use the comparison feature to view up to 6 design analysis results side-by-side and easily share the results with your partners, stakeholders or customers without having to download it first.
Now within EyeQuant, you can easily create a public share link for up to 6 design comparisons so that other team members can see a side-by-side comparison.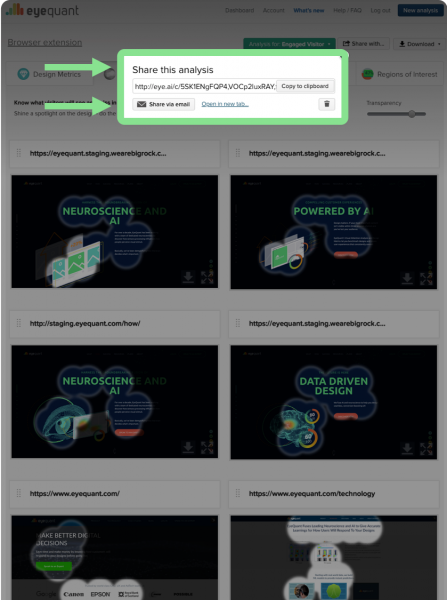 How does it work?
The share feature will allow you to create a public link for your comparisons. That's right, your recipient doesn't even need an EyeQuant account to see the results.
You can compare iterations of the same design, or multiple designs from your competitors to identify which components elicit the highest attention.
You can now, with just a single click, email your share links directly from the EyeQuant platform to your recipients.
If you're not already using EyeQuant's comparison feature you can read how to compare designs here. 
—
UPDATE: April 2018
Great news! We've made some updates to EyeQuant's Regions of Interest tool to make the results more strong and stable.
In some cases, small changes to the size of a region had large effects on the region's value. We've now made some adjustments to our algorithm that makes the region values more robust to small changes, so you will no longer see unusual large jumps in the ROI value when adjusting the size of a region.
What you'll notice
As you place and adjust new regions on a design, the area value (percentage) will be more stabilized

These changes will only impact new analyzes, and will not impact existing analyzes, which means existing Regions of Interest values will not be impacted; previously placed regions will remain unchanged
__
UPDATE: August 2017
A new video has been added: 

Creating a Visual Hierarchy with the 3Ws Framework

.  This video will help you quickly pinpoint the most relevant elements on any design.  
On the bottom of the results page you can now scroll through the analyzes within the same project. Easily navigate through the analyzes within a project and click any thumbnail image to view the results of the analysis.  The result you're viewing currently will be highlighted in blue. Analyzes to the right were completed previously, and analyzes to the left were completed after the current analysis. Click on the left/right arrows to scroll through the thumbnails.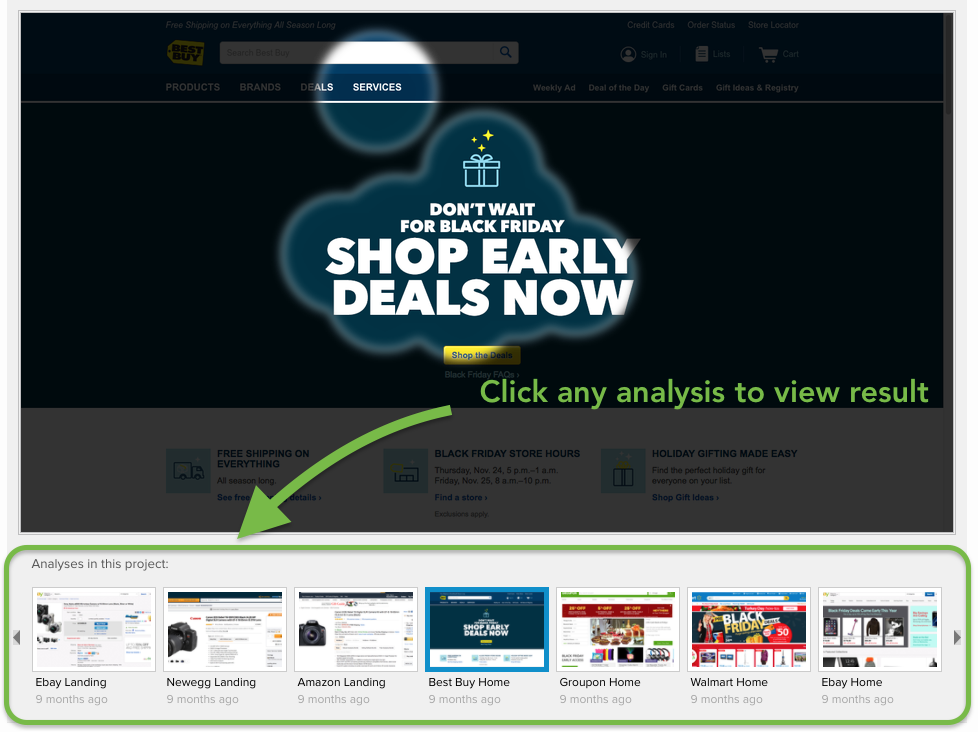 Navigation was just made easier! On the results page of an analysis, you can now easily navigate to its respective project folder by clicking the project name in the results page heading.  Clicking this link will bring you to that particular project on the dashboard, and more specifically to the analysis' particular location within the project (i.e. Browser extension Project, page 2).

Bug Fix:

 Edit Region feature in Regions of Interest is now working properly.  You can now change the name of each region by clicking on the region when you see the cursor.  The editable text will be highlighted and you can either type directly to replace all highlighted text, or place your cursor within the text to change only a portion.
The Clarity Map is now available on the (read-only) Shared Results Page.  If you send a share link to someone, they can view the Clarity Map under the Design Metrics Tab.
—
July 2017
A lot of new content was added to our FAQ section. 

Take a look

!  This should make it easier to find information about our product, app features, etc.

Our Help Section just got a small make-over!  It should now be easier to find useful articles, and new content has been added for better understanding of the tool.
—
June 2017
A new video tutorial has been added to the EyeQuant help pages called, "Analyzing Emails". This tutorial will walk you through using EyeQuant to analyze email campaigns for marketing purposes.
—
May 2017
A new video tutorial has been added to the EyeQuant help pages called, "Uploading a Design".  This is the first video of a planned series to help you navigate through the app.
—
February 2017
The EyeQuant Browser Extension for Chrome is here! The extension lets you instantly analyze any page you're currently viewing in your browser 'on the go'. This gives you 100% control over the screenshot you'd like to see results for.  (Note that this is currently only available for Google Chrome browsers.)
—
January 2017
Regions of Interest Update

Add and modify regions in Comparison View (like the Single Analysis view)

Region name & visibility percentage are now simultaneously visible

Color spectrum added for regions:

Bright Green: Most Visible

Light Green: Visible

White/Grey: Moderately Visible

Light Red: Less Visible

Dark Red: Least Visible

Full-size screen option is now available from the single analysis view

Copy updated for New / Engaged Visitor models

Clarity Map is back!

Download Individual Maps: Perception Map, Attention Map, Hot Spots, and Clarity Map

Select multiple screenshots in project folders (including 'one-off analyzes') by holding shift key while selecting

Re-order screenshots in compare view