We spoke to DesignOps expert, Patrizia Bertini, Head of Experience Design Operations at Truelayer about all things DesignOps: what it really is, how you position it at a company and why it is fundamental for efficient and happy design teams.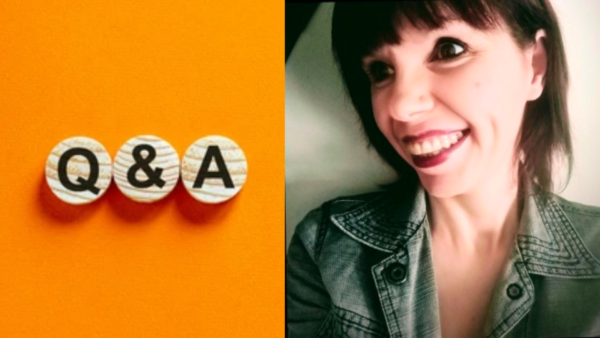 Can you tell us a bit about your background?
Being a naturally curious person, I've had a really varied, non-linear career. I've been fortunate to work extensively in the fields of accessibility, usability, academic research, and user research, before I eventually found my calling and became completely immersed – some might say "obsessed" – in Design Ops. I'm currently Head of Experience Design Operations at Truelayer. 
Let's start with the basics. What is DesignOps?
I like to think of design operations as a pirate discipline of design because it's all about learning the rules, and then breaking them to make an impact and improve things.
If we break it down, Design is about creating new ways to solve problems. As Steve Jobs said, "It's not just what it looks like and feels like, design is how it works."
"Design is all about finding solutions within constraints. If there were no constraints, it's not design — it's art." – Matias Duarte, VP of Design at Google
In terms of Operations, this is all about transforming resources and data into desired goods, services, or results. These are purpose-driven transformations that aim to create and deliver value to the customer. In this context, the customers are design teams, design leaders, and the business. 
To put the two together, Design Operations is about transforming the way that design is executed to create value for all the stakeholders and the business.
DesignOps is an internal-focused function that applies a system thinking approach to understand how design teams operate. Its ultimate goal is to identify opportunities and to create business benefits through improved spending and operational performances.
Why is DesignOps important in the modern workplace?
DesignOps is a crucial link between designers and senior stakeholders. All too often, designers don't use business language, and the business doesn't "speak design".
As organisations mature, the way they operate (the "how") becomes as important as the product they produce (the "what"). For design leaders, the "how" requires an entirely different skill-set to deliver measurable business outcomes – and that's where DesignOps is important.
Another of the core functions of DesignOps is to increase efficiencies in operations and spending. This aspect of DesignOps is of particular importance when you consider that, according to the Workfront Report 2020, designers spend up to 60% of their time doing non-design-related tasks. Studies have also found that, on average, office workers in the UK are productive for less than 3 hours per day.
What is the difference between a design leader and a DesignOps leader?
One of the biggest challenges for people in DesignOps is how to position themselves within the business. More specifically, it can be difficult to identify whether someone is a design leader or a DesignOps leader.
The best way to distinguish one from the other is to think about each role's perspective.
Design leaders focus on the "what" – the product. They are always looking outside the business – looking at things such as:
the market

the users

other products and services

product metrics
Their deliverables include product and design strategies, and their core functions in the business are to influence and negotiate with senior stakeholders.
DesignOps leaders are responsible for the "how" – the process. While a design leader looks outside the business, a DesignOps leader looks – you guessed it – inside the business. They focus on:
the end-to-end design process

cross-functional collaboration

how teams work, including their efficiency and performance

design tools

the design ecosystem 
They have a strategy on how to execute the experience and how to ensure that the product delivers on its expectations.
One of the biggest responsibilities a DesignOps leader has is to successfully manage change. Remember, design is about transforming reality, so change management is one of the most important skills that a DesignOps leader needs to possess.
"design is about transforming reality, so change management is one of the most important skills that a DesignOps leader needs to possess."
I find the below graphic really useful to distinguish between the roles: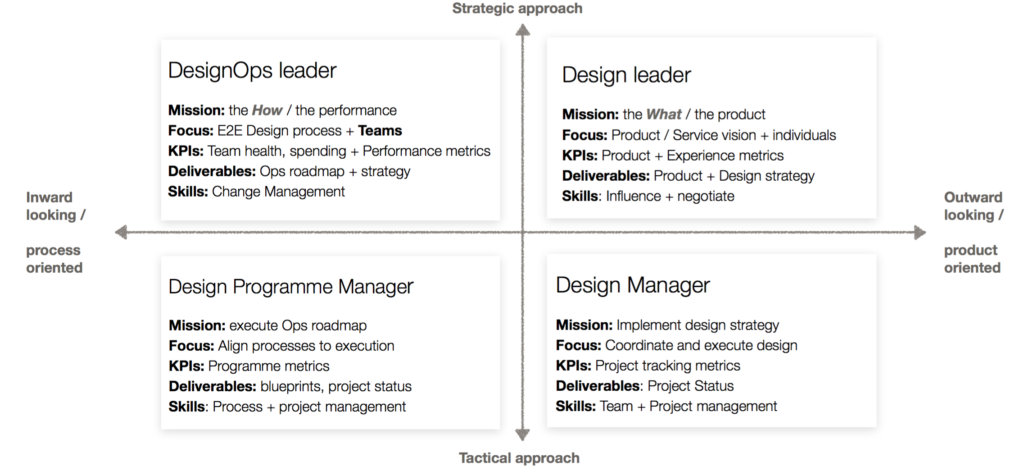 How does DesignOps operate at a practical level? 
DesignOps' goal is to generate quantifiable value for the business, its design leaders, and design teams, through the transformation and optimisation of end-to-end design processes.
The best way to think about what DesignOps people do is to separate the field into 3 key areas: business, workflow, and people.
Business operations
From a business operations perspective, the DesignOps remit includes:
budget management

spending optimisation

procurement and contract negotiation

ROI calculation

impact assessments
These duties are all aimed at delivering value through increased efficiency.
Workflow and design
Expectedly, DesignOps also has a large focus on the workflow and design operations within a business.
This includes:
end-to-end design process optimisation

tools and systems ecosystem management

cross-functional collaboration optimisation

data governance

participant sourcing process

design asset management

design standards
DesignOps seeks to enable and empower designers to do their best work by giving them the tools they need, and by embedding the processes that allow them to focus on design.
People
Another large part of DesignOps is managing the human element. After all, designers are people, and like everyone else, they will produce their best work when placed in the optimal working environment.
DesignOps people operations include:
career path definition

training and development programs

team culture

knowledge and experience sharing

onboarding and off-boarding

internal communication

change management

recruitment
You've mentioned the DesignOps pillars of Efficacy and efficiency. What is the difference? 
Efficacy is all about doing the right things. The focus is on the right behaviours, for example:
increasing the number of researches and studies as well as the number of end users that are involved in a study or project

increasing the number of data points that we utilise and apply 

increasing the number of experiments we run before deciding on a solution 
Efficacy is all about creating the right behaviours because the right behaviours create efficiency and have a material effect on the business value.
While efficacy focuses on instilling the right behaviours, efficiency is about doing things the best way.
Efficiency is quantifiable and it is measured by numbers, percentages, and ratios, that provide an objective measurement of impact and results through per cent variations and relative delta. Efficiency is not a qualitative and subjective estimate, and it is not measured by adjectives or verbal descriptors.
DesignOps improves efficiency by addressing quantifiable measures such as:
tools' ROI (cost/engagement/adoption)

testing and prototyping lead time

the number and type of quality reviews

team productivity (resources utilisation)

end-to-end delivery time
Inefficiencies aren't always obvious or even visible. For example, something as straightforward as a lack of written procedures, inadequate tools, or missing templates, can have a significant negative impact on delivery times, work/life balance and ROI. 
The effects of inefficient design operations reach well beyond just the design team – this affects the entire business, both in terms of quantifiable losses as well as damaging the culture within the business.
"The effects of inefficient design operations reach well beyond just the design team."
Where do you begin with understanding the efficiencies within your own team? 
Every design team has inefficiencies. Acknowledging that there are invisible inefficiencies is the first step towards efficiency. My advice is:
Understand your team and its pain: no two teams are the same. Each DesignOps strategy needs to fit the specific organisation and the team

Measure inefficiencies and define clear metrics. If you are not able to measure the inefficiencies and the impact, you haven't framed the problem well enough (yet)

Solving a design team's inefficiencies will create efficiencies across the organisation because of design's x-functional and collaborative nature. Use this domino effect to create partnerships and maximise impact across the business

Teams are living and evolving organisms, so make sure you always listen and observe. Listen to the teams, to your partners, to your instinct, to the data and never stop listening

Inefficiencies change constantly: by solving a problem check there is not an emerging problem somewhere else stemming from the solution. 
Remember – at its core, DesignOps is a transformational discipline that practices change management to ensure that the improvements are adopted and have the expected impact.
For this reason, DesignOps applies System thinking on the top of Design thinking, because improving efficiencies within a design team may well lead to inefficiencies elsewhere in the business. This changes the dynamic, and while some problems are solved, new ones can arise.
By adopting a system thinking methodology, and by taking a continuous improvement approach, DesignOps is a core function of any business that seeks to improve, progress, and innovate.
Sign Up For Our
Newsletter We thought you might like these too