When creating digital ads, understanding what's going to resonate with your audience is key. So we're very excited to announce that we've teamed up with leading ad and innovation testing platform, Zappi, to help brands create more effective ads and slash digital spend wastage.
Zappi has integrated EyeQuant's insights into its Instant Ad Predictor, enabling more brands to test their ads, diagnose issues and, ultimately, maximise performance before they go live. 
The (free!) tool is powered through EyeQuant's rich API and based on a huge amount of data from real consumers (and trained on hundreds of millions of dollars of ad spend).
Brands simply upload their ad, select some information about it and receive a "scorecard" of predictions within minutes, benchmarked against their industry. These include:
Clarity and Excitingness Scores (how clean & clear does your ad look and how stimulating is the design?)
Brand Impact (A combination of how people feel about your brand, and how well your brand links into your ad)
Overall Appeal (predicts whether the sentiment to the ad will be positive or negative)
Purchase Intent (how likely the ad is to drive behaviour change, or make people purchase)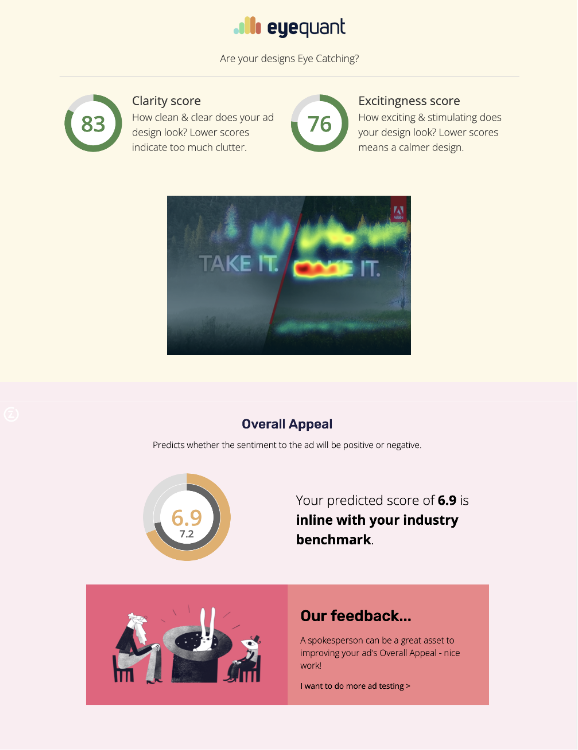 Charlie Blake Thomas, CEO of EyeQuant, said: "Brands are wasting millions a year on ads that are just not being seen. With the loss of the 3rd party cookie and increase in user privacy controls, there has been a huge disruption to the way brands collect the data they need to run effective ad campaigns. As a result, more and more companies are recognising the need to integrate attention prediction into their own technology stacks."
"Our partnership with Zappi will enable more brands to test ads quickly and cost effectively before they go to market, to help deliver significantly higher performing ROAS (Return on Ad Spend). 
Nik Hazell of Zappi said, "Zappi's partnership with EyeQuant has brought far more power to Zappi's predictive tool. EyeQuant's predictive eye tracking is genuinely game changing; providing this much insight in an  instant tool is way beyond what we expected to achieve."
For more information or to give it a try, visit https://www.zappi.io/app/digital_prediction
Sign Up For Our
Newsletter We thought you might like these too