We are delighted to announce that we have another new team member. Manuel Recalde is joining the team based in London as our Customer Success Manager. In order to introduce him properly, we've asked him a few questions: 
#1: What was your first job?
My first job was International Relations Manager at GeoSDI; it was mostly supporting with English speaking clients as the company was Italian.
#2: Have you ever met anyone famous?
I've met Dan Carter (All Blacks rugby team) and Yolandi Visser of Die Antwoord.
#3: What are you reading right now?
Shadow of the Wind by Carlos Ruiz Zafón (for the 100th time, a great novel and series).
#4: If you could pick up a new skill in an instant what would it be?
Speaking Japanese – I've always been fascinated by the language and culture. 
#5: Who's someone you really admire?
My father, cliche I know, but he worked for the World Food Program, a branch of the UN, for 35 years providing food aid and security all over the globe. Pretty amazing if you ask me.
#6: What's your favourite place you've ever visited?
Morocco. The food, the people and culture were brilliant.
#7: Seen anything lately that made you smile?
My cat tripping over herself and awkwardly looking around in shame before pretending it never happened. It made me feel seen and validated as a fellow clutz.
#8: Why did you decide to join EyeQuant?
EyeQuant provided an opportunity to flex and grow my Customer Success skills in a new environment, sector and technology. But most importantly, I was inspired by the values of striving to be the very best you can be, no matter what you're doing.  The open and welcoming culture permeates every action and interaction the business has, making it a pleasure to work here.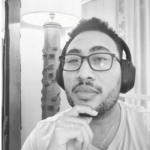 Sign Up For Our
Newsletter We thought you might like these too