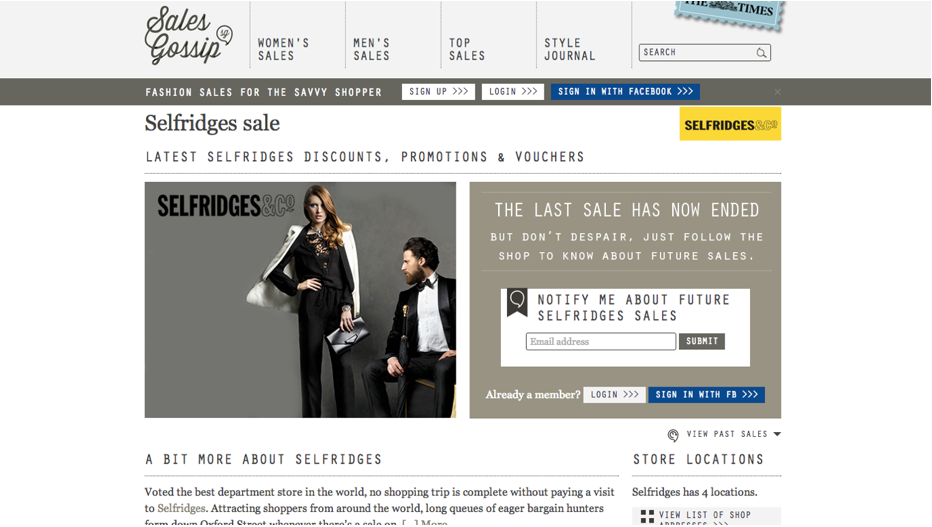 SalesGossip directs savvy deal-hunters to the latest sales and promotions of their favourite brands. Users sign-up to access the details of each sale event, and opt-in to receiving emails to be notified about future deals.
SalesGossip recently overhauled their entire website using EyeQuant to test and compare changes along the way, and in doing so achieved an instant 30% boost in sign-ups. Not only this, but SalesGossip made some excellent fundamental changes to their core branding and content, putting them in line with the look and feel of other fashion websites in their ecosystem.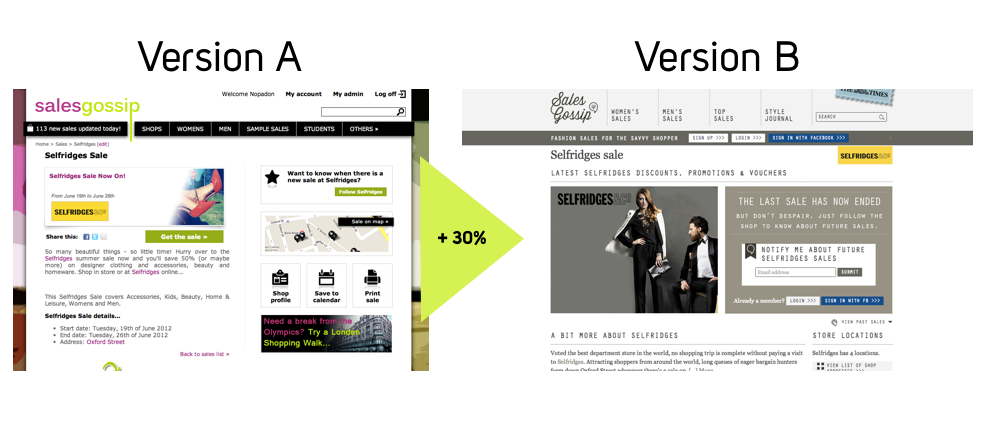 To find out how SalesGossip made such a great leap, let's take a look at one of their "Sale" pages.
Make It Easier to "Stay Tuned"
EyeQuant's "Regions-of-Interest" function lets us measure how attention-grabbing a specific region of a page is in comparison to the average pixel on the page. Here, we can see that the "notify me about future sales" call-to-action went from 4% to 43%more attention-grabbing than the average pixel on the page. Why?
Even though Version A's "Follow Selfridges" button is colorful and flanked by starred, bold black text, the button isn't placed in a prominent location, and its light green color doesn't produce enough contrast against its white background. In Version B, the user's eye is drawn toward the "notify me about…" region thanks to the grey box that surrounds it, as well as its far more central location.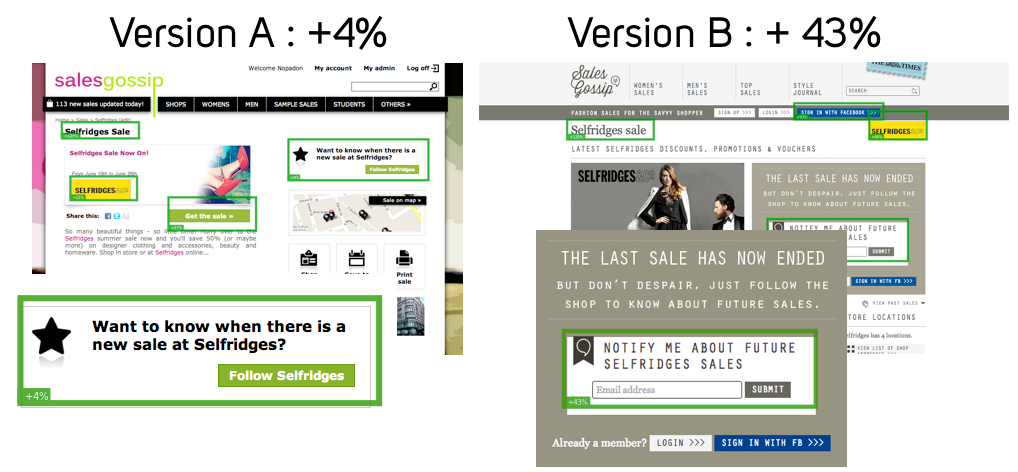 Give Users An Idea of What They're In For
Version A doesn't give the user much of an idea of what they might expect from Selfridge's; they simply see a logo and a pair of shoes that don't necessarily conform to the brand's identity. In Version B, an ad campaign image from Selfridge's takes centre stage. In this way, the user can instantly gauge the feel of the brand while being directed through a navigational path that is consistent with the overall aesthetic of the page.
Let Users Sign in with Facebook
30% of Facebook's 500 million + users use Facebook Connect to log in to third party sites every month. SalesGossip used this knowledge to make their Facebook Connect CTA stand out with a blue button against an otherwise grayscale, monochrome scheme.
Bring Attention to the Community You're Creating
Nobody will deny that the marriage of e-commerce and fashion editorial has become a strong one. Bloggers sit in the front row of fashion week, while Harvard Business School offers a course on just this subject. SalesGossip placed their "style journal" – a fashion editorial guide for their users – in a prominent position on the page in order to engage potential users and make them feel part of a fashion community.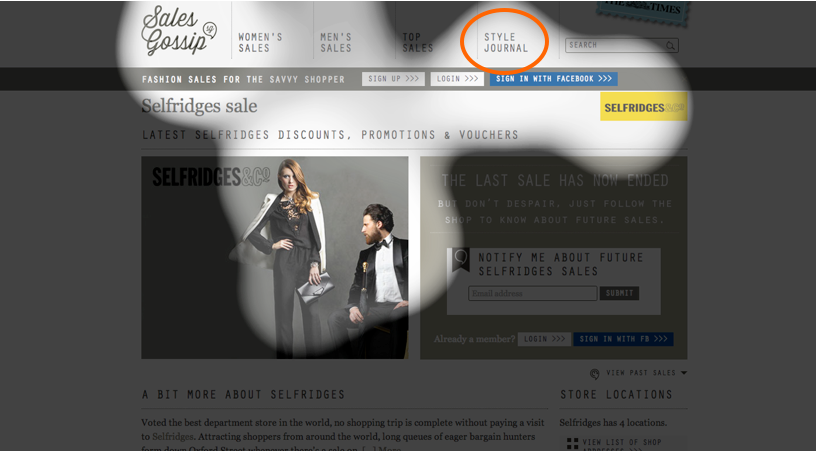 Consistency Creates Flow – and Flow Creates Consistency
Recent studies into the science of human attention show that, rather unsurprisingly, it's more difficult for us to find things in a messy environment. Scientists at MIT were able to hone in on one point in particular, though: too much variation in size, color, and texture is confusing. Even though Version A provided all the information a user might need, its organization was inconsistent, with too many varying sizes and colors scattered across the page. Version B's flow becomes clear using EyeQuant's Perception Map, where spotlighted areas show what users will see in the first 3 seconds. As opposed to Version A, where the user's eye is jumping all over the page, Version B provides a focused path, putting the user at ease.

Align Your Color Scheme with Your Niche
Coco Chanel made black and white a chic staple in fashion in the 1920's, and this trend continues today. Sites like Net-A-Porter, Neiman Marcus, ASOS, and TopShop adhere to a monochromatic black & white color scheme to impress a sense of sartorial savvy upon their users. By following their lead, SalesGossip effectively aligns themselves with the online fashion eco-system, allowing potential and current users to more immediately identify the site's relevance in its field.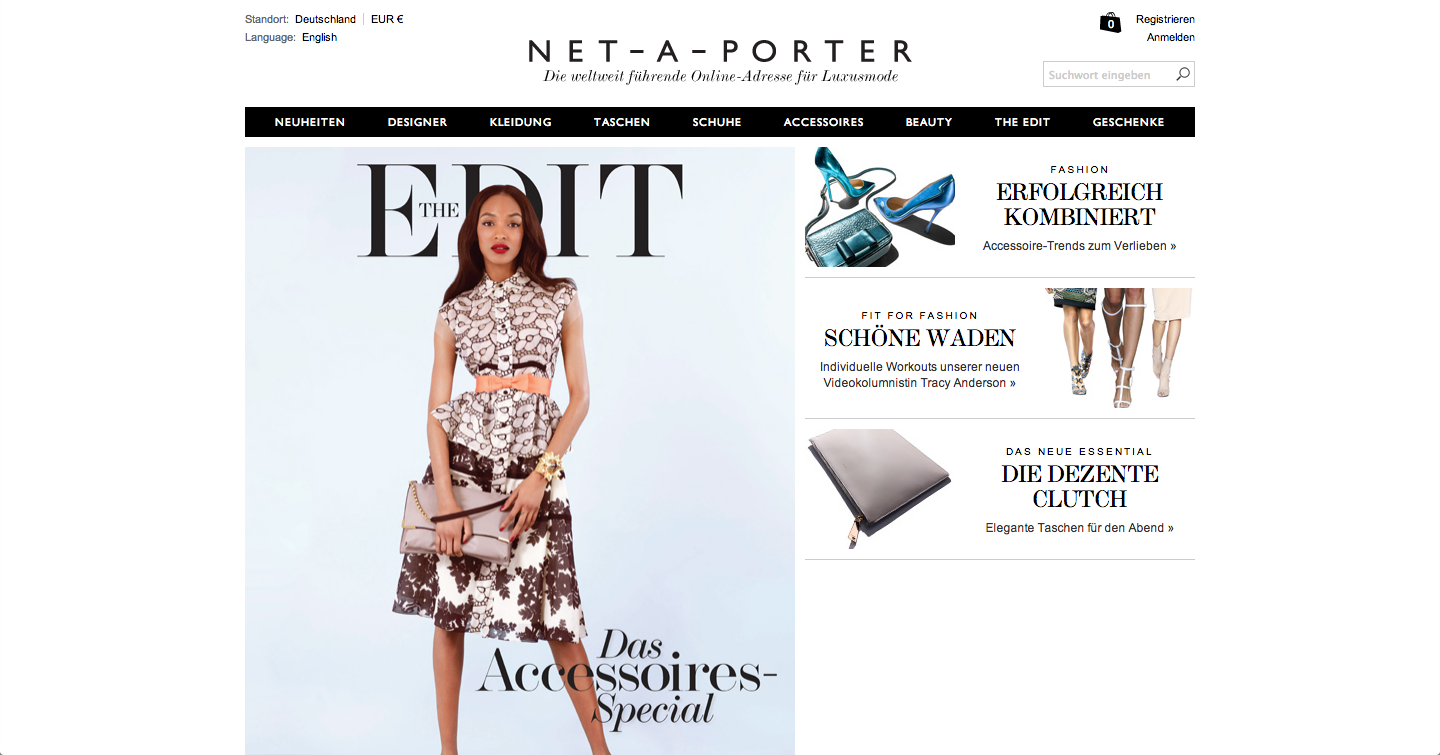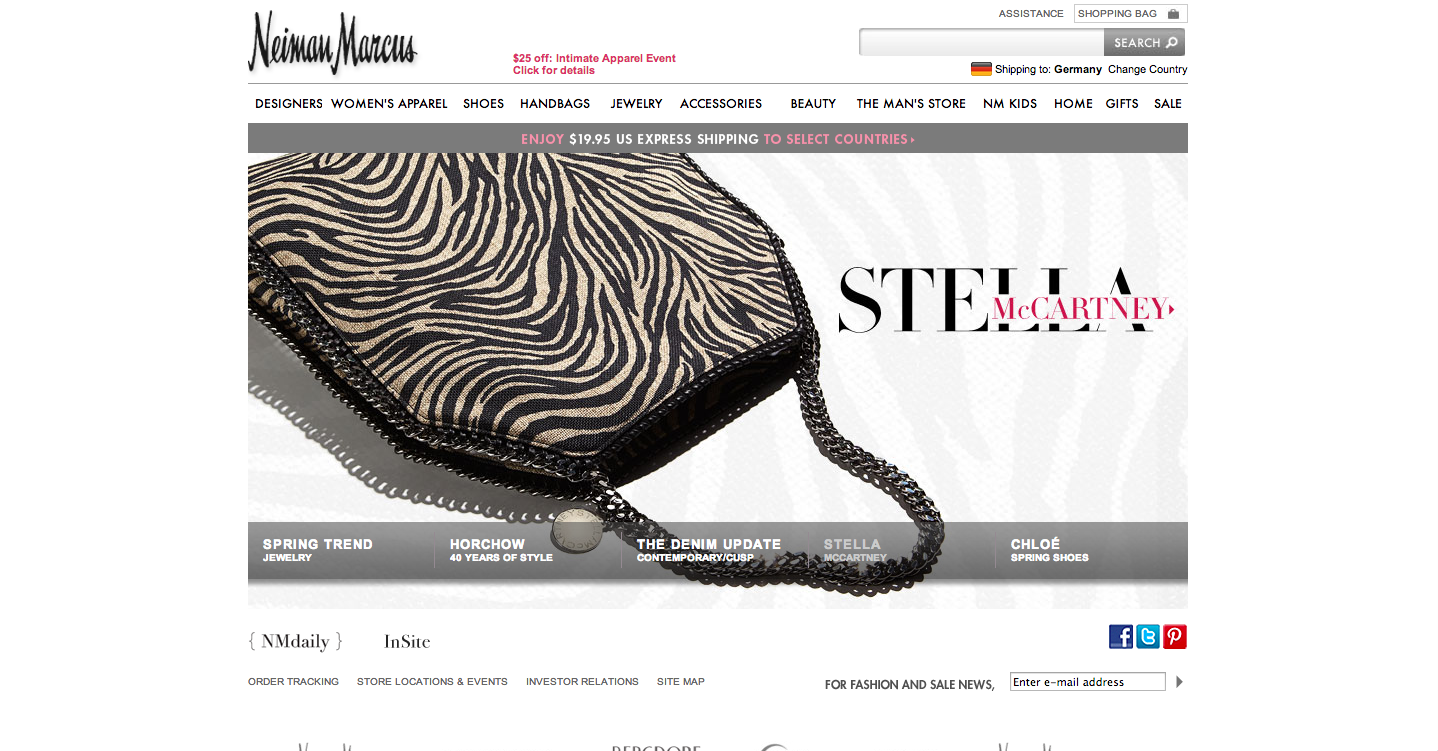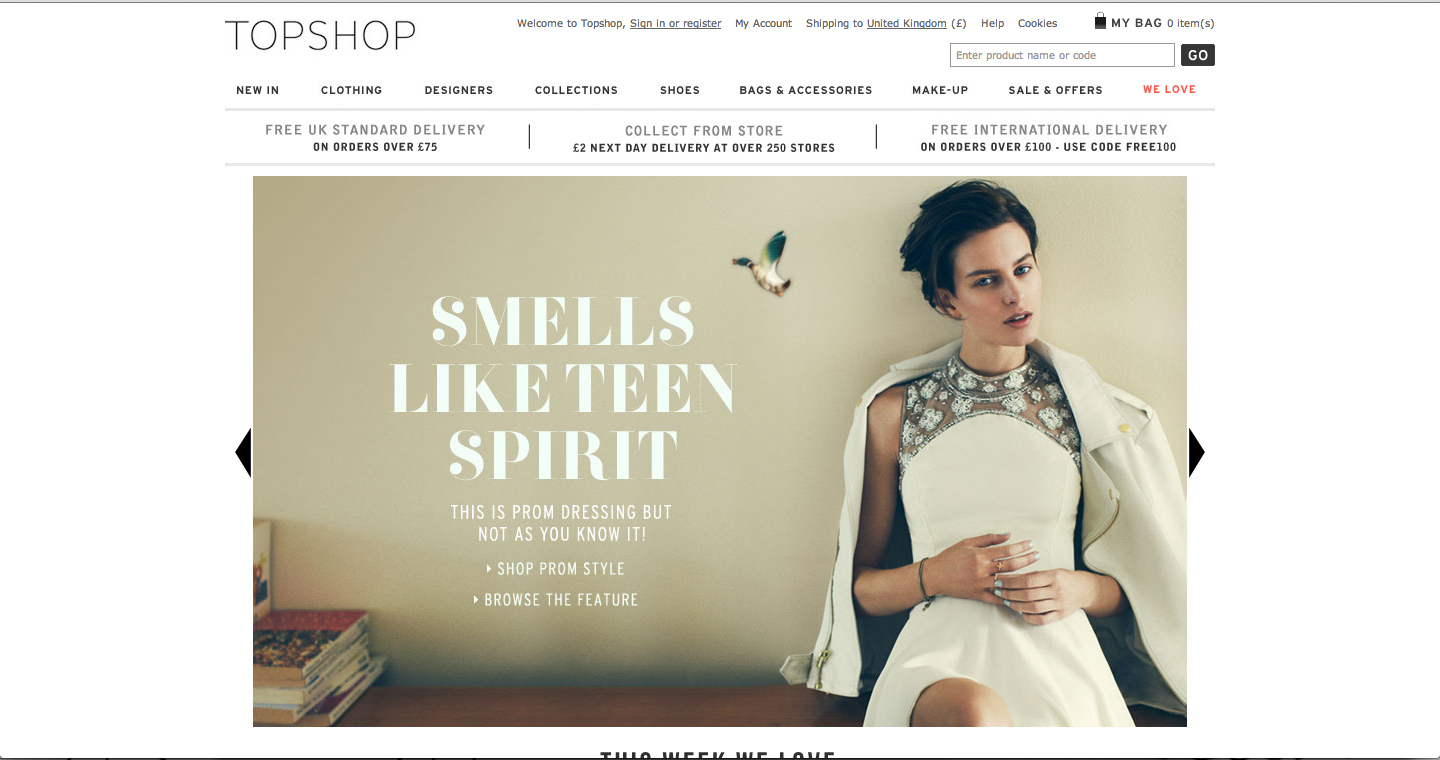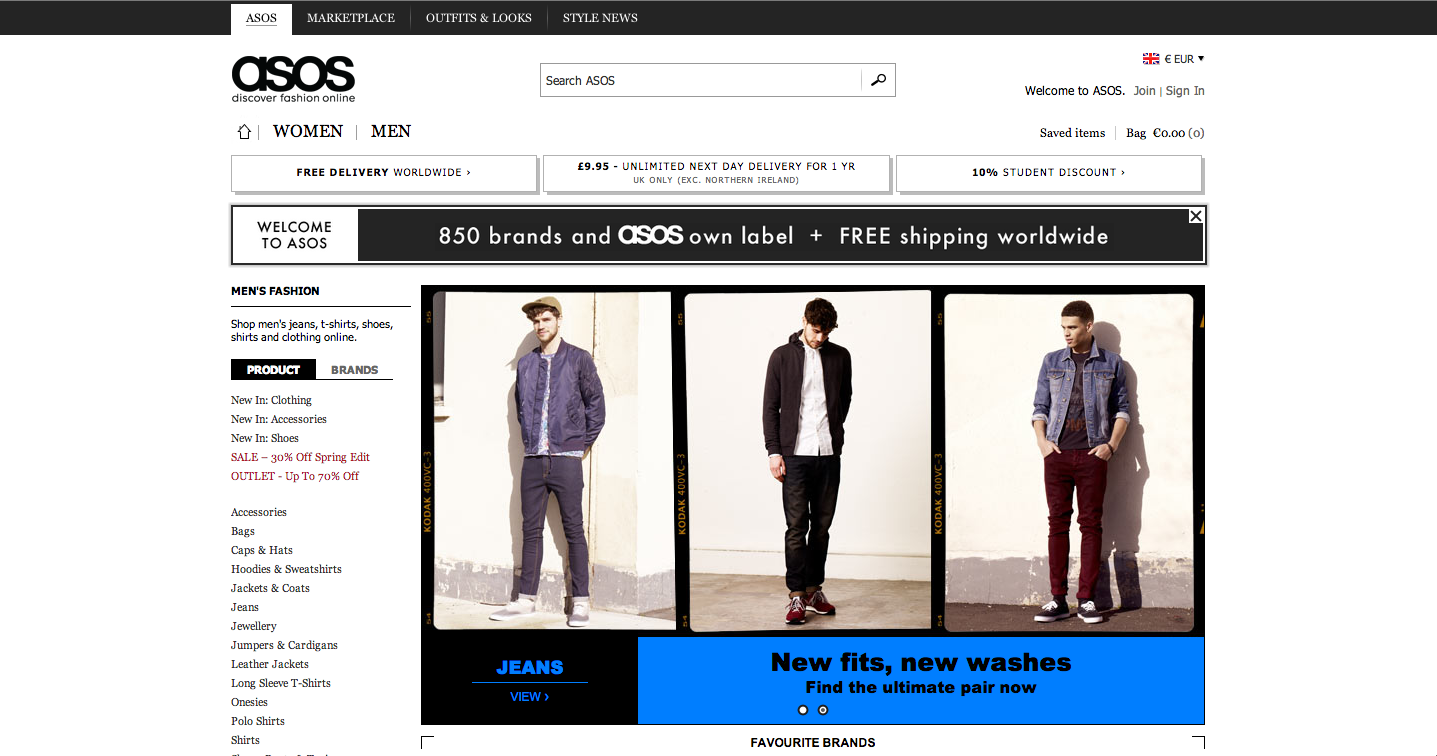 In Version A, two banners of color flanked either end of the page, drawing the eye to the outer edges of the page; in Version B, this colorful background is replaced by white, centralizing the user's focus and calming the visual path. Creating white space around important elements eases and smoothes the process of user attention, quite simply reducing the amount of information competing for user attention.
Using EyeQuant's instant visualisations, the reasons why SalesGossip is achieving better conversions become clear: their new site flows from one element to the next with simplicity  – and just the right amount of design flair.
Key Takeaways
Determine how users can "stay-tuned", and make this element easy to access.
Let users sign-in via social media.
Engage users with a sense of community via relevant editorial content.
Create "flow" by organizing and prioritizing content with consistent colors, sizes, and organizational groupings.
Know your ecosystem, and plan your color scheme accordingly.
Create space for the user to explore by de-cluttering unnecessary copy and design touches. Remember: Function over Form!
Want to  find out how users are seeing your website during the first moments of their visit? Request a personal demo with one of our experts and we'll show you a free analysis of your website.
Sign Up For Our
Newsletter