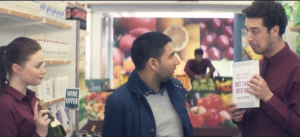 It's a brilliantly funny way to demonstrate the often absurd nature of our online lives: Take a virtual situation and bring it to the streets, or in this case, the supermarket.
[youtube=http://www.youtube.com/watch?v=N5WurXNec7E]
Google Analytics recently released a series of hilarious videos just in time for holiday shopping mania, highlighting the problems online shoppers encounter with landing pages, site searches, and checkouts.
Their 'landing page optimization' video has become a fast favorite of ours: Menacing customer service agents cheerily follow around an increasingly annoyed customer with irrelevant suggestions on extra purchases and supposed savings. All the poor shopper wants is olives, and these optimization-bots are stuffing a bottle of chardonnay and a self-help book in his basket with a bewildering lack of empathy.
Online shopping really needn't be this frustrating, and Google knows that it's in everyone's best interest to keep things simple.  The best way to grab a customer's attention isn't to distract them with baffling offers, but to direct them to what they are looking for using fluid, succinct, and visually stimulating cues. As the old adage goes: no muss, no fuss, and everyone's happy.
EyeQuant are experts at understanding where a user's attention is being directed. Our online software is simple to use and delivers results within seconds: Simply upload a screenshot or URL to our website, and we will provide you with highly accurate perception maps that help you to analyze what users see, and what they don't, on your website.
Sign Up For Our
Newsletter We thought you might like these too