As voted by EyeQuant customers
Towards the end of 2019, we interviewed our clients to understand their biggest challenges and how they were using EyeQuant to solve the most difficult UX pain points. We regularly conduct these interviews to glean valuable insight into what to build next. Consequently, not only do we now have a very long backlog of new exciting features to develop for our lovely customers, but the interviews themselves have helped shed light on the other tools used by leading UX, product and marketing teams around the world.
We took the key findings from the interviews and created the below diagram. The diagram brings to life just how complex the design process has become. Whilst design methodologies (such as Design Thinking, Agile Design, System Thinking, etc) may be well established, it seems the number of design and testing tools now available is becoming dizzying. Nonetheless, here are our customers' favourite tools accompanied with an explanation of how and when they're used throughout the design process: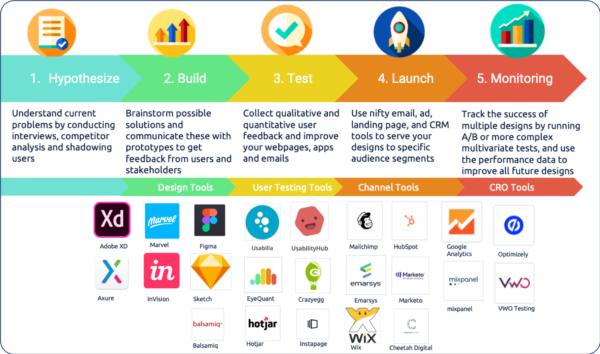 3 Key observations include:
UX designers are very comfortable creating wireframes, prototypes and online specs using the likes of Adobe XD, Invision, Figma and Balsamiq – the software is almost ingrained in their DNA. However, at this stage of the design process, designers are craving user data to inform design decisions and these platforms don't provide user insights.
Once designs are transformed into beautiful prototypes, UX designers and product managers alike, often feel like they're drowning in data. I mean, look at the diagram above, there's software for remote user testing, click tracking, surveys, voting, eye-tracking simulations and more. The biggest challenge is selecting the most valuable data and being able to incorporate those insights into improving the product.
The CRO tools segment is a really mature category, from the likes of Hotjar and Optimizely to VWO and Google Analytics, there is no end of software aiding experimentation.
Takeaways:
It's a really exciting space to be operating in. One of the main takeaways is that user data is creeping into the earlier stages of the design process, namely the 'design' and 'build' phases. Whilst the experts responsible for the 'monitoring' stage of the process all have a plethora of data at their finger tips, the design & build stage is yet to really have any concrete data to help inform their design decisions. And that's where tools such as EyeQuant come in. By connecting unique insight into where users are looking – designers and developers can gather insight within seconds, optimising their designs before they're even live for the ultimate digital experience.
Sign Up For Our
Newsletter We thought you might like these too