As a leading usability testing service, User Fountain run, test and analyse how users complete tasks on your website, app or prototype to drive killer conversion. EyeQuant is proud to present a guest post by Lead Usability Consultant, Lydia Wright: 
Have you ever lived a day in the life of your user? The person who you need to prioritise, support, influence, delight and inspire every time they interact with you online. And we mean really getting under the skin of your user. It's easy to think you are the user, you've spent hours studying your user, creating user personas and pen portraits. But you are not your user and you cannot design and create on their behalf in isolation without involving them intimately in the process. 
A number of studies suggest that whilst organisations are saying that they are prioritising customer centricity, the reality seems to be that this doesn't align to customers' perceptions of customer centricity. 75% of organisations report they are customer centric yet only 30% of customers think that the companies they do business with are customer centric (Consultancy.uk).
Customer centricity online can only be achieved through a deep understanding of how your user and your online experience amalgamate. Understanding what your users see, what their emotions are at each point in your journey and what influences their decision making. The tools required to help organisations understand and achieve this are readily available – using them correctly and actioning the outputs are one way to take a positive step forward with your user experience and customer centricity.
Mind and heart – Usability testing studies, user surveys
Usability testing studies and user surveys are great ways to get an insight into the mind, thought processes and emotions of your user as they navigate your site.
In usability testing studies users are recruited to complete tasks on a site or app and give their spoken feedback as their screens are recorded. There is nothing more powerful than observing real users get stuck when completing a task and listening as their frustrations grow. And nothing more satisfying than hearing their positive feedback on experiences completed with no friction. 
There are a number of ways that user surveys can be conducted on a site – from simply asking users to rate their experience on a scale of angry to delighted emojis, to asking them a series of specific questions about their experience. 
When run properly both usability testing studies and user surveys can provide you with a host of qualitative and quantitative data – from user quotes to lostness scores and task completion rates. The key to success once this data is collated is presenting it back to the business in a way that is actionable and creating a clear action plan based on the learnings. User Fountain is a managed service for usability testing – the team's usability consultants have run hundreds of usability testing studies and can help ensure your study is a success and delivers actionable insights. This is a good option if you are not sure how to run a user testing study on your own or don't have enough resource in house. It is also a good way to avoid bias in user testing as external usability consultants will have no vested interest in the results and outcomes of the study.
Eyes – Predictive eye tracking 
Viewing your website or app through the eyes of your user can be achieved with the help of predictive eye tracking tools such as EyeQuant. EyeQuant uses an algorithm based on the results of thousands of real human eye tracking studies and predict how users visually interpret your pages – what elements get the most visual attention, what elements are seen in the first three seconds and how pages score for visual clarity.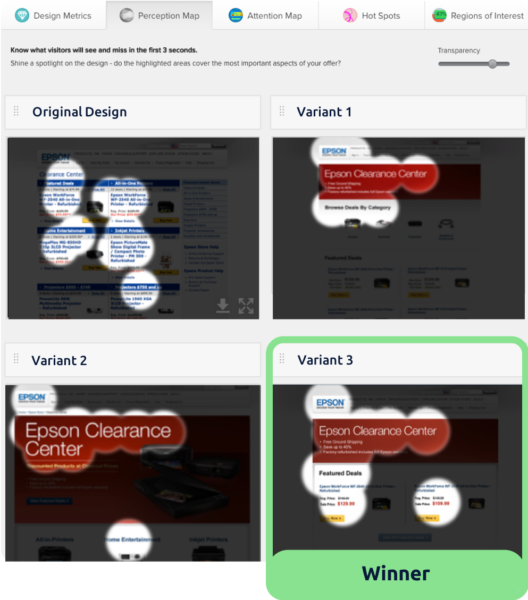 Layering insight from such tools can add further colour to usability testing studies – for example if users struggled to find a particular call to action during a usability testing task, does predictive eye tracking validate that the button has low visual clarity which may be a causal factor?
Hands – Click tracking heatmaps, scroll depth analysis, web analytics data

Now it's time to overlay what users are actually doing with their hands on your site or app. Where are they clicking or tapping, how far down the page are they scrolling and what journeys and funnels are not converting? This data can be collated from tools like Hotjar, web analytics and user behaviour tools. 
Typically these tools help you see what is happening on your website. When combined with the data telling you what is going on through your users mind, heart and eyes you can start to understand why you are seeing this data.  The next step is to build a series of hypotheses on how to improve your user experience based on all of the data collated.

Validate your findings
Once your hypotheses have been created it is critical that where possible these are a/b tested to validate your findings. Self reported data and observed behaviour are often not the same. What people say and what people do are often very different which is why qualitative feedback from usability testing and user surveys most definitely need to be validated. And even when based on the data you have collated you are sure you've identified a friction point or blocker in your user journey correctly, it is still important to validate that you have solved the issue with the correct solution and not made the problem worse. A/B testing is the only way to confirm you have improved your user experience for the masses – and even better you will be able to demonstrate if you have delivered a revenue impact and report what this will look like for your business. 
Conclusion
To create a truly user first, customer centric online user experience you need to collate real feedback from real users and live your experience through their mind, heart, hands and eyes. Layering these data points on top of each other will help you create well rounded hypotheses that can be a/b tested to validate you designs and report back the business value you have delivered through the incremental revenue forecast.
Sign Up For Our
Newsletter We thought you might like these too