ExactTarget customers, we have news for you!
EyeQuant has partnered with ExactTarget to create an app for their new marketplace, HubExchange. The EyeQuant app is specially developed to show marketers precisely what readers notice first when they open an email – simply, and within seconds.
ExactTarget customers can download and install the EyeQuant app from directly within the Interactive Marketing Hub, HubExchange.
What does the EyeQuant's ExactTarget app do?
51.1% of users spend less than 2 seconds on an email before deciding to read on or hit delete. In other words, if users don't instantly see a reason to read on, you've likely lost them…
Enter EyeQuant for ExactTarget HubExchange.
Like EyeQuant's existing software, the EyeQuant app provides ExactTarget marketers with three mapping tools to analyze user attention on any email campaign.
Simply upload any campaign from your ExactTarget account, and within seconds you will receive unique, highly accurate visualizations just like this:
EyeQuant's ExactTarget app is a new way to analyze and improve upon reader engagement and click-through rates. Fabian Stelzer, EyeQuant's co-founder and CEO, explains:
"Research continually shows that if an email's core message visually pops out to a reader, engagement and click-through rates significantly improve. In partnering with ExactTarget, the EyeQuant app provides marketers with the unique ability to test their email designs and receive objective, precise heatmaps of reader attention – within seconds."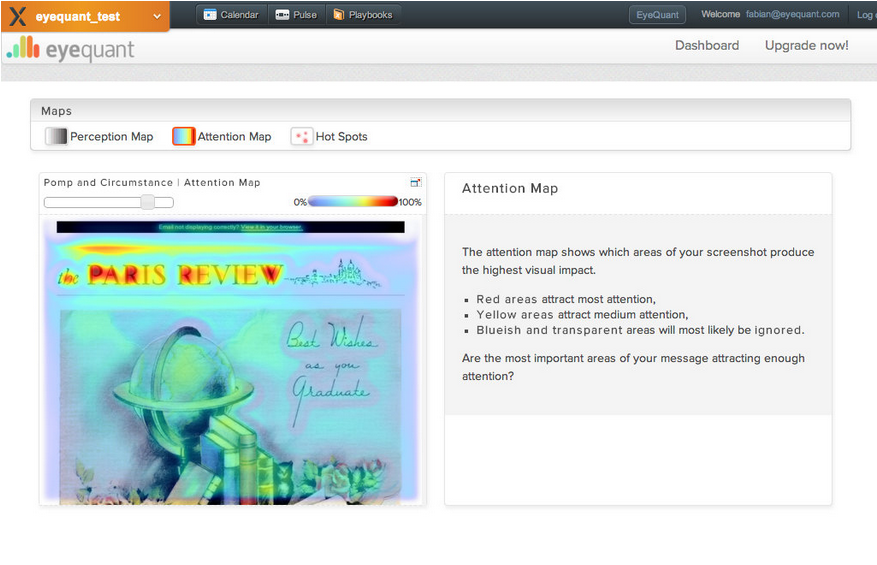 Join us for a live demo of the new app on Friday July 18th at 1pm EDT. Register here:
https://attendee.gotowebinar.com/register/7348541235999504640
For more information on ExactTarget and HubExchange, visit:
www.hubexchangeweek.com
www.ExactTarget.com
www.HubExchange.com
Sign Up For Our
Newsletter We thought you might like these too